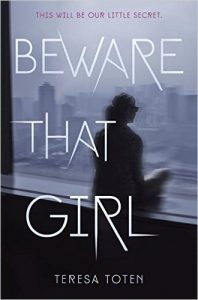 Beware That Girl, a novel by Teresa Toten.
Set for release May 31, 2016.
Suggested Price; $17.99 USD.
Beware That Girl is a rags to riches story that left me shaking my head.
Kate O'Brien, a pauper and con-artist with a brilliant mind, gains admission to Waverly, an elite all girl high school in New York City.  Despite the fact that it's not a boarding school and all the characters are high school students, everyone's parents are neatly tucked away on foreign business trips, living in London, deceased, or incarcerated, leaving the girls unattended to ruin their lives.  Oh, and all their parents let them drink, and so do all the restaurants in the city, actual laws be damned.
If the author doesn't have the girls engaged in a cascade of bad decisions, then she's busy dropping names of designer labels.  Tiffany's, Doc Martins, Jimmy Choo, Chloé, Louis Vuitton, Hermès, Patek Philippe; please kill me now.  And don't get me started about the name dropping of artists.  It served as a constant reminder that nearly all the characters in this book are shallow and unlikable.