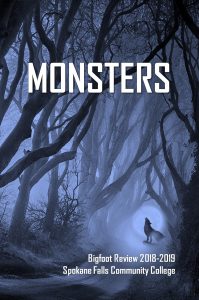 After many delays, sabotage attempts, efforts to censor the book, and having endured intimidation tactics by school administration officials, the SFCC Pullman Campus Creative Writing Club is pleased to announce that this year's anthology, Monsters, has finally been published.
In an email dated March 7, 2019, I learned that Dean of Student Services, Cynthia Vigil had gone so far as to contact the Office of the Attorney General for the State of Washington, who is reported to have told her she could not censor the anthology.  Attempts to do so violate the students First Amendment rights.  However, that did not prevent Ms. Vigil from pressuring students and faculty alike, nor is this is the first time faculty and staff have attempted to censor student work.  (See: "Concern, condemnation after Spokane Falls student newspaper reports on sex scandal." Seattle Times.  April 5, 2018.)  Ironically, both censor attempts were for the same reason, the administration does not like being reminded that sexual predators are monsters.
As of August 9, 2019, the students report that Cynthia Vigil and the Director of Student Funded Programs, Heather McKenzie, are still refusing to provide the club with a budget for next year. This means the club must rely entirely on book sales to pay for next year's publication, conference attendance, and other club actives.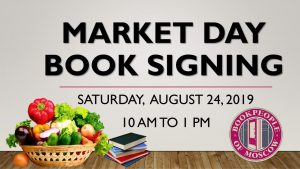 Help support the club by coming to the Market Day Book Signing on Saturday, August 24, 2019.  That day, students from the Creative Writing Club will be at BookPeople of Moscow from 10 AM to 1 PM, to meet with the public and sign copies of their book.  Your anthology purchase directly supports those students who fought so hard for publication in the face of those who intended to silence them and ensures the club will be able to continue publishing in the future.
If you are not able to attend the book signing, copies of the book can be purchased directly from the Pullman Campus at a reduced price.  Otherwise, you can purchase both print and ebook editions on Amazon at: https://www.amazon.com/author/khalielawright