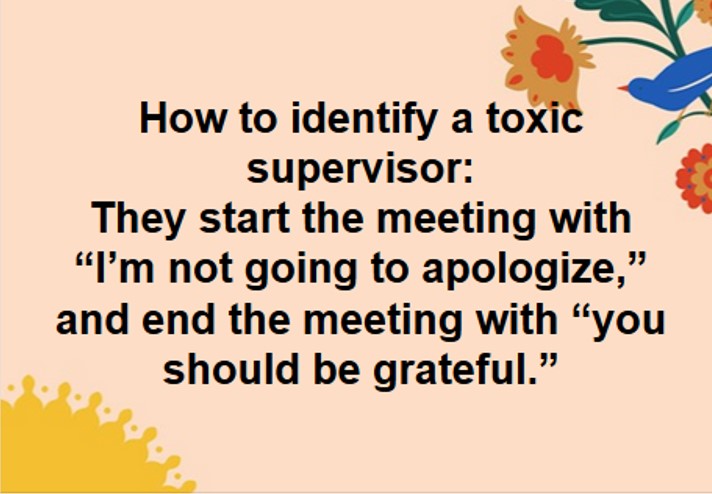 Sometimes you just encounter a really bad boss.  The kind of boss that has no respect for your time or for you as an individual.  After two years of giving my supervisor the benefit of the doubt, I have come to the conclusion that I have a bad boss and have been existing in a toxic work environment.
Today, my supervisor started our meeting with the phrase, "I'm not going to apologize," and ended the meeting by telling me, "You should be grateful."  There was a lot of not listening, platitudes, talking over my concerns, or brushing them aside in the middle.
So what was this meeting about?  Student funded activities.
Every student who enrolls at Spokane Falls Community College is required to pay "S&A Fees."  These fees come directly from the students tuition and are supposed to be returned to the students in the form of money to fund student clubs and other activities.  Students from the Pullman Campus paid a total of $108,629.20 in S&A Fees this year, but the office in Spokane insist that we deserve no more than $22,568 in return.  That's quite a difference.
The result is that the students have had to make hard decisions.  Presently, the SFCC Pullman Campus receives $39,989 that goes directly back to the students.
$10,000  Pullman Tutor Budget
$ 4,000  Pullman Travel Budget
$ 1,471  Pullman Creative Writing Club Budget
$ 1,000  Pullman Game Club Budget
$ 4,968  Pullman Film and Photography Club Budget
$  350  Pullman Young Mathematicians Budget
$ 3,000 Pullman Contingency Budget
$ 15,200 Pullman Student Activities Board Budget
In Spokane, their student leaders receive a work study award of 15 hours per week and their student senators receive a work study award of 10 hours a week.  Our student leaders are awarded just 6 hours per week for work study, significantly less than the awards in Spokane.  Despite that, for the last few years, the SFCC Pullman campus students leaders have been accepting less pay (and in some cases no pay) in order to have funds for student actives because their $15,200 budget is not big enough to both pay them and provide activities for the student body.
Because we are a Washington State institution, we are required to pay Washington minimum wage.  The students' 6 hour a week work study award works out to $1000 per quarter and with 3 officers enrolled in each of the 3 quarters that we offer classes, that comes to $9,000 in work study for the year.  Add in the cost of paying for graduation and drinkable water and the budget in nearly consumed, thus the need for hard decisions.  They have chosen to forgo pay in order to provide activities like our end of year BBQ, which will be held in Reany Park on June 5th.  The problem is, I don't think it's legal for them to work without pay.  The solution the students suggested was to increase their budget to $19,200, so that they could get paid and provide a reasonable amount of activities for the student body.
In the meeting today, Heather McKenzie said she could not verify our numbers, thus was not prepared to grant the request.  At one point, the students were told that they should be grateful for the $39,989 we do get, because Spokane would be justified in cutting the budget back to $22,568.  It was the same story we've been given for years.  I doubt very much that anyone in Spokane will bother to look at the numbers simply because this has been an issue for years and they never have.
Links for S&A Numbers and Student Budgets
PSA Justification for Increase in Funds
Multi-year comparison Pullman Budgets
That wasn't the only issue the students were upset about.
Student Budgets for next year were supposed to be returned for approval on March 8, 2018 and the students would have the opportunity to appeal on March 12th.  The Pullman budgets were not returned until May 6th, well after the appeal deadline, and the Creative Writing Club budget and the Tutor/Work Study budget still has not been returned.  In today's meeting the students were told that the budget timeline had been changed, that's why the budgets were late.  However, the office of student funded programs in Spokane neglected to communicate that to the students.  They also neglected to communicate the new timeline for appeals. When asked about the missing budgets, the boss replied repeatedly, "I already sent them."
I reiterated that despite several request, both from me and from the students, we most assuredly have not received them.  At this point, the boss could have said, "Oh, let me send them again."  (I would have overlooked the "again" if only to get the budgets.)  Instead, the boss became belligerent, insisting they were all sent at the same time.  I told her that I was more than happy to show her my email and that they were not attached.  She adamantly refused to take me up on this offer.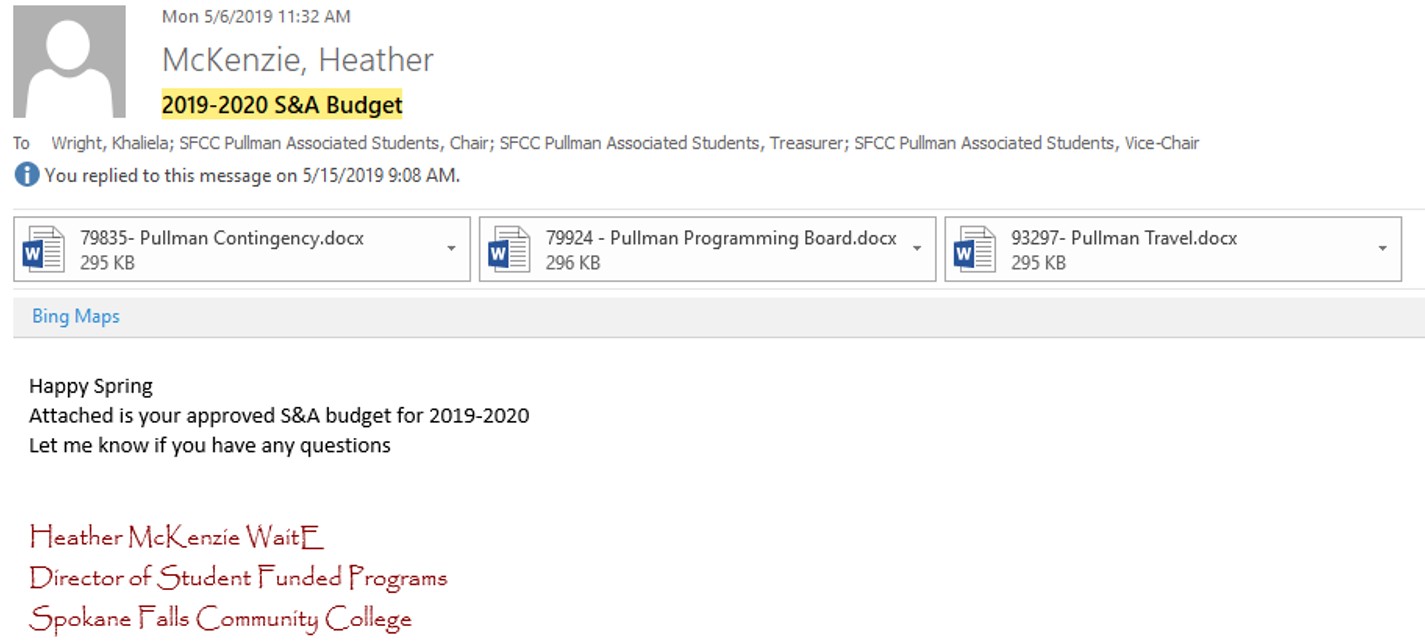 Link to Budget Timeline: 2019-2020 Budget Timeline
Both students and advisors were unhappy about how long it takes for request for spending forms to be approved.  When students want to spend money, the club votes to allocate funds, fills out a request for spending form, has a club officer or designee sign the form, obtains an advisor signature, and sends the form to Spokane where it is supposed to be signed by two more individuals before being returned.  The timeline required for this process is listed on the form and varies from 1 week in advance to 5 weeks in advance depending on type of purchase.  There have been times when it has taken over two months for forms to be returned and sometimes the forms are returned sans signatures.  This has resulted in student events being canceled and delayed.
The boss said that she doesn't have to sign or return the forms.  The students should just wait a reasonable amount of time and if they don't hear back from her, assume they have permission to spend the money.  Seeing as the institution has a form and the form has a place for a signature, having the boss refuse to sign and return the form seems a bit ludicrous to me.  And . . . it begs the question, how long is a reasonable time to wait?
In Spring of 2018 the Student activities board submitted a request to attend the NACA Conference in Ontario, CA from November 8th thru November 11th.  They were not informed that they could not attend until October 2018, some 6 month after sending in the request, and only 1 month before the conference.  Does this mean a 6 month wait is considered reasonable?  What if the students only wait 2 months before making their purchases?  Would there be repercussions for spending money that was not approved?
Link to Request for Spending Form: Request for Spending Form
The boss adjourned the meeting and sent the students out of the room before the students could ask about the discrepancies between the amount that Spokane claims they have received from fundraising activities and the amount of cash they have deposited.  When I tried bringing this up with the boss afterwards, I was told that the meeting was over and, "We need to be on the same page when addressing the students, not sowing distention in the ranks."
I stated, rather bluntly, "But, we're not on the same page."
The spreadsheet provided from Spokane shows that the activities board has only earned $32 from fundraisers this year.  Our records show that the student activities board has deposited $826 so far this year.  Spokane shows that Pullman Creative Writing Club has only received $106 from fundraisers this year.  The club records show deposits totaling $357.  In addition to being concerning because student funds seem to have disappeared, there is a good chance that the school is in violation of the law.  When the students sell their books and t-shirts, they are required to collect sales tax.  If the deposits are not being recorded and credited to the clubs, then there is a good chance that the sales tax the clubs collected is not being forwarded on to the State of Washington, either.
Links to Fundraising Spreadsheets
Creative Writing Club Spreadsheet
At this point the boss said that everything came down to a few miscommunications and everything could be smoothed over if we'd all just work harder next year.  That's when I lost my temper and said, "You don't pay me enough to work harder.  In fact, instead of berating me, you should be thanking me for work I do manage to accomplish."
The advisor stipend is only $160.50 per year, and at Washington minimum wage of $12 per hour that only buys them 20.04 min per week for administrative activities.  I put in well more than that.  For my efforts, I get paid $1,123.50 to oversee and organize activities for the campus, up to 8 events per year.  The Student Activities Board reached their 8th event at the end of Winter Quarter, meaning that I have been working without pay for the entire Spring Quarter.
If you take the $1,444.50 I earned for the year and divide it by the 981 hours I've worked so far this year, that works out to just $1.47 per hour.  Not only is that well below Washington minimum wage, but it's grossly underpaid even when compared to the federal minimum wage of $7.25 per hour.
At this point Cynthia Vigil, Interim Dean of Student Support Services, turned to me and said, "No one works for the money and if the money is an issue for you, I guess you have a choice to make.  We feel that our advisors should be grateful for the opportunity to work so closely with the students."
At that point, I simply replied, "I quit."  I have a full-time job working with the United States Census Bureau.  I don't need this job and I have absolutely no intention of working for less that $1.47 per hour.
Link to Master Contract: MASTER-CONTRACT-2015
Link to Job Description: Pullman Campus Programming Board Advisor Job Description
Link to Annual Hours Report: ASG Volunteer end of year report