Janet Gullickson, President of Spokane Falls Community College, visited the Pullman Center on Wednesday, May 4th, and informed students, faculty, and staff that the campus may close its doors at the end of the quarter.  The reason, she said, was a $2 million dollar budget shortfall.
That afternoon, students took to the streets protesting the possible closure.  The announcement came after financial aid deadlines had passed.  A campus closure would leave many in the cold, without an opportunity to apply for financial aid at any other colleges or universities next year.  The students involved in the protest posted pictures on Facebook, but the administration in Spokane quickly demanded that the photographs and comments be removed.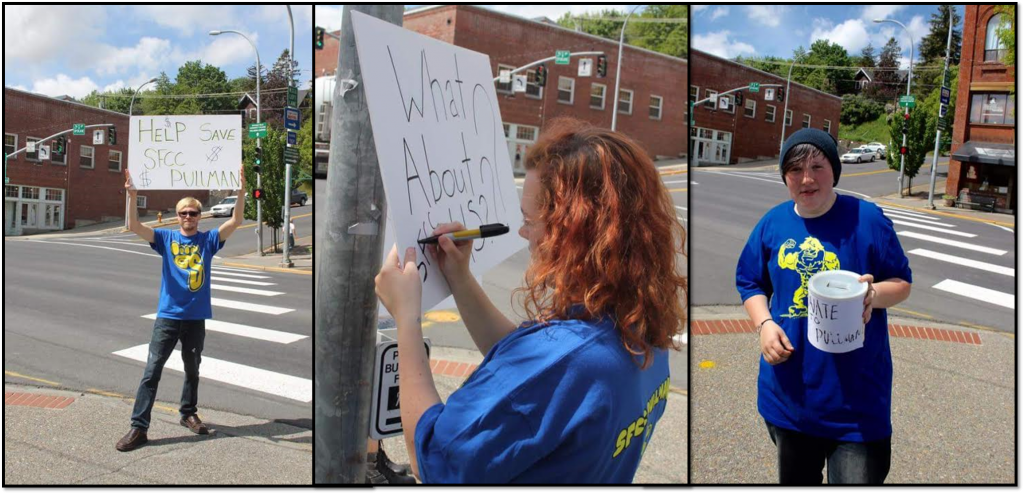 As an economist, I know that hard managerial decisions must be made.  I also know that those decisions need to be based on good information and facts, not emotions.  As luck would have it, the day following Janet Gullickson's announcement, the lecture covering the shut-down case was scheduled for Econ 201, microeconomics.  The lecture was silent, students wide-eyed with fear, were still processing the information from the previous day, and learning a rather hard reality in class.

"Economics happens out there, in the laboratory of the real world," I told my students.
Now, the real world of difficult economic decisions had landed in their laps and as their instructor, the timing couldn't have been better.  With the motivation of saving their campus, and a healthy dose of extra credit points, students were offered the opportunity to analyze the SFCC Pullman budget to determine if, indeed, it was a shut-down case.  The first step though, was acquiring the budget.
No one in Pullman has ever seen the budget.  A debacle in CTC link, a new and improved software, just launched this year, means that all budget numbers are mysterious and vague, hidden somewhere in the ether of computer servers elsewhere.  Faculty worked without contracts for weeks, living on a hope and a prayer last fall, and a promise of pay sometime in the future.  The contracts showed up by the end of winter quarter, but here it is May, the school year is almost over, and we still don't have a budget.
Based off the assumption that the budget would not vary greatly from year to year, I requested last year's budget so students could at least get started on the analysis.  The budget request went in around 1 PM on May 5th.  Shortly before 5 PM the same day President Gullickson announced that Pullman would remain open the following year, but with reduced staff and course offerings.  Students would have one year to finish their Associates Degrees and transfer elsewhere, but the budget never materialized.  Debbi Edwards, the Pullman Center manager said she has been requesting a budget for the last three years, but no one in Spokane is willing or able to produce one.  If the campus is going to be shutdown, those who will lose their jobs should at least get the courtesy of knowing why.
Since no one on the Pullman Campus has access to a budget, this year's or last year's, the faculty created one.  After all, it was easy enough to figure out how much each person gets paid and the administrative assistants handle most of the remainder of the bills.  A "best guess" budget was then released to the students who were encouraged to analyze away.
The first surprise came when four different income and expense models revealed that under no circumstance was SFCC Pullman losing money.  In the best case scenario Pullman turns a profit of $99,321.04; in the worst case, the profit drops to $13,821.04.  There is little reason to shut-down a profitable operation and it was my understanding that community colleges weren't supposed to be profiting off the backs of the students anyway.
Possible Profit Combinations for SFCC Pullman

Low Revenue/High Expenses
$  13,821.04
Low Revenue/Low Expenses
$  54,321.04
High Revenue/High Expenses
$  58,821.04
High Revenue/Low Expenses
$  99,321.04
Given a $2 million budget shortfall, with SFCC Pullman making up 4% of the Spokane Falls Community College total expenses, Pullman's share would be $80,000.  That is a manageable sum.  Pullman's share of the deficit could be covered by increasing enrollment by 8 international students, or 10 domestic students, especially since the Pullman Campus is already profitable.
Armed with information showing that SFCC Pullman was not losing money, the administration was asked why we might be shut-down.  The response was, "You might be making money but you aren't making enough money."  In order to avoid being shut-down SFCC Pullman would need to reduce the cost per FTE to be in line with the cost per FTE for Spokane.
Again, there was no budget made available for this analysis, though one was requested.  The Administration in Spokane simply said that Pullman's expenses accounts for 4% of SFCC's total expenses.  After a little math, a cost comparison per FTE was generated, and sure enough, Pullman was too expensive.
Based off what little expense information was available, Spokane provides education at a cost of between $5,572.82 and $5,763.29 per FTE, much lower than the range of $7,765.43 to $8,089.43 for Pullman.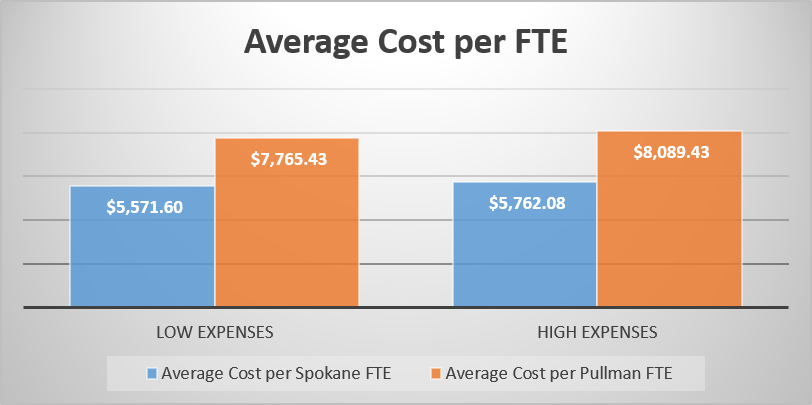 It was beginning to look like bad news for the Pullman Center.  But, the amount students pay in tuition is public.  An estimate of revenue could be generated by multiplying tuition by number of FTE's.  Taking revenue into account, estimates for the profitability of the Spokane campus were generated and the results were startling.  The worst case scenario showed Spokane with an annual profit of $7.8 million dollars; the best case scenario showed profits of $10.6 million dollars.
Frankly, there is no way those numbers can be right.  Either Pullman does not account for 4% of SFCC's total expenses or Spokane is not providing education at $5,600 per FTE, or something else really weird is going on.  There is no way SFCC is pulling a $7.8 million dollar profit annually.  If they were the state would be heralding it as a model for community colleges everywhere and that $2 million dollar cut could be easily absorbed by the operating budget.  So where has the money gone?
What is most concerning about this entire process is that no one seems to know what the actual budget is and if they do, they aren't willing to share those numbers.  It is foolhardy to be making decisions that affects the futures of students, faculty, and staff without actually seeing some form of hard evidence first.  What everyone should be demanding now is transparency and accountability from administrators.
I think everyone involved would find the cuts easier to stomach if they came with a good measure of truth, hard facts, and an understanding explanation.
Unlike our administrators in Spokane, I am willing to show you the numbers my students used: SFCC_Pullman_Budget