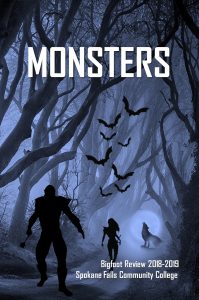 The SFCC Pullman Campus Creative Writing Club is pleased to announce the theme of this year's anthology: MONSTERS!
Whether they hearken from myth and legend, the evil side of religion, fantastical or sci-fi creatures with beastly traits, warlords or mass murders, or are the stuff of nightmares, we want you to bring us your monsters. This anthology explores monsters, their roles in our lives, and ours in theirs. Submissions are open to fiction, non-fiction, and poetry, however, all works should adhere to the theme. Authors whose work is selected for inclusion will receive a copy of the book and have an opportunity to participate in a reading in May 2019.
Submissions are accepted until March 1, 2019 and are open to SFCC Pullman students, faculty, staff, and affiliates.
---
Submission information is listed below:
Email subject line:  Your Name, MONSTERS: Your Story.
(Example, Khaliela Wright, MONSTERS: On the Trail of Sasquatch.)
Body of the email:  Your Bio (50 word limit)
Email attachment:  Your work (7,500 word limit).  Files must be Microsoft Word documents. (.doc or .docx)  Limit of three submissions per person.
Email submissions to Khaliela Wright at: khaliela.wright@sfcc.spokane.edu
Authors selected for inclusion will be notified in April 2019.