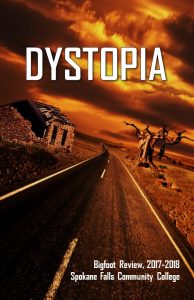 For Monday FUNday this morning, the SFCC Pullman Creative Writing Club unveiled the cover of the 2017-2018 Bigfoot Review.  The students will be working on this all year, with the expectation of having a book in hand in May 2018.  Authors whose work is selected for inclusion will receive a copy of the book and have an opportunity to participate in a reading on May 23, 2018.  Submission information is listed below:
Want to see your poem, short story, or play in print?
The Pullman Center Creative Writing Club is accepting submissions for inclusion in the Bigfoot Review.  Email submissions to Khaliela Wright at: khaliela.wright@sfcc.spokane.edu
Email subject line:  Your Name, DYSTOPIA: Your Story.
(Example, Khaliela Wright, DYSTOPIA: Highway to Hell.)
Body of the email:  Your Bio (50 word limit)
Email attachment:  Your work (3,000 word limit).  Files must be Microsoft Word documents. (.doc or .docx)  Limit of three submissions per person.
Submissions accepted until March 7, 2018 and are open to SFCC Pullman students, faculty, staff, and affiliates.
All works should adhere to the theme DYSTOPIA.
Authors selected for inclusion will be notified in April 2018.