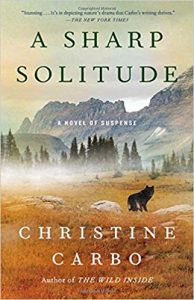 A Sharp Solitude, a novel of suspense by Christine Carbo
Available from Amazon for $12.99
Best Book I've Read All Year!
I picked up this book at random while perusing the library shelves and gave it little thought as I tossed the audio book into the front seat of my car.  It turned out to be the best book I've read all year.
In the Flathead region of Montana, a journalist has been murdered and FBI Agent Ali Paige is determined to find the killer. Unfortunately, the detectives with the County Sheriff's Office have fingered Reeve Landon, the father of her child, as a person of interest, resulting in a conflict of interests that keeps her off the case. As the noose tightens, Ali must decide if she is willing to betray her partner's trust in order to save the father of her child.  To avoid the law, Reeve escapes into the wilderness where he ultimately meets with disaster and needs to be rescued of the very agencies he's been trying to aviod.  Continue reading →